Viet Nam has the highest proportion of female CEOs in the Asia Pacific region at some 25 per cent, much higher than the world average of 10 per cent.

The information was released during a seminar on "Female leaders in banking and financial technology" held early this month in Hà Noi to honour the role of Vietnamese women on the occasion of International Women's Day, which falls on March 8.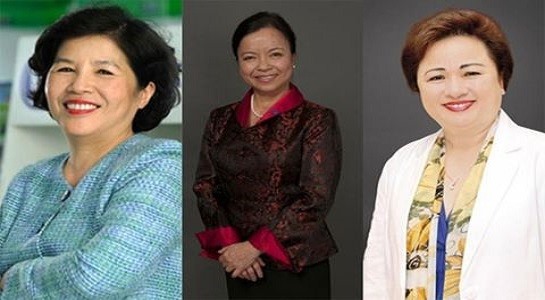 Three Vietnamese female CEOs in the list of 2014 Forbes Asia Power Businesswomen: Mai Kieu Lien, Nguyen Thi Mai Thanh and Nguyen Thi Nga
At the event, participants also heard that the banking sector has a relatively high percentage of female employees, accounting for nearly 60 per cent of the sector's total workforce.
The number of females holding senior positions and leadership roles is on the rise, both in central bank and commercial banks, which shows that women currently play a very important role in the shape and operation the banking system, Deputy Governor of the State Bank of Viet Nam (SBV) Nguyen Thi Hong said.
She added that in recent years, the banking sector, in general, and the SBV, in particular, have undertaken many practical activities to implement the "Action Plan" on gender equality and on the advancement of women in the banking sector in the 2016-2020 period.
To better meet the development requirements of the banking industry in the age of digitisation and international integration, the Committee for the Advancement of Women in the Banking Sector organised the seminar to introduce to the female leaders and employees new trends, challenges and opportunities in the fields of financial technology, digital banking, electronic payment and e-commerce.
However, despite the advantages, there are still barriers that hinder women from reaohing management positions and leadership roles, including gender stereotype, over-expectation, balancing work and family life, and poorly supported working environment.
Embracing this reality, Kristy Duncan, founder and CEO of Women in Payments -- an organisation that facilitates learning, career development and community building for women working across the payments sphere in the United States, Canada, Australia and beyond -- said there was a need for practical solutions to encourage women's participation in the labour market of all sectors in general and in the finance and banking sector in particular to increase the success of each organisation and company.
Duncansaid gender equality issues need to be addressed as a national problem and that there should be specific strategies to develop the role of women leaders in the innovation of the banking sector and financial technology. — VNS